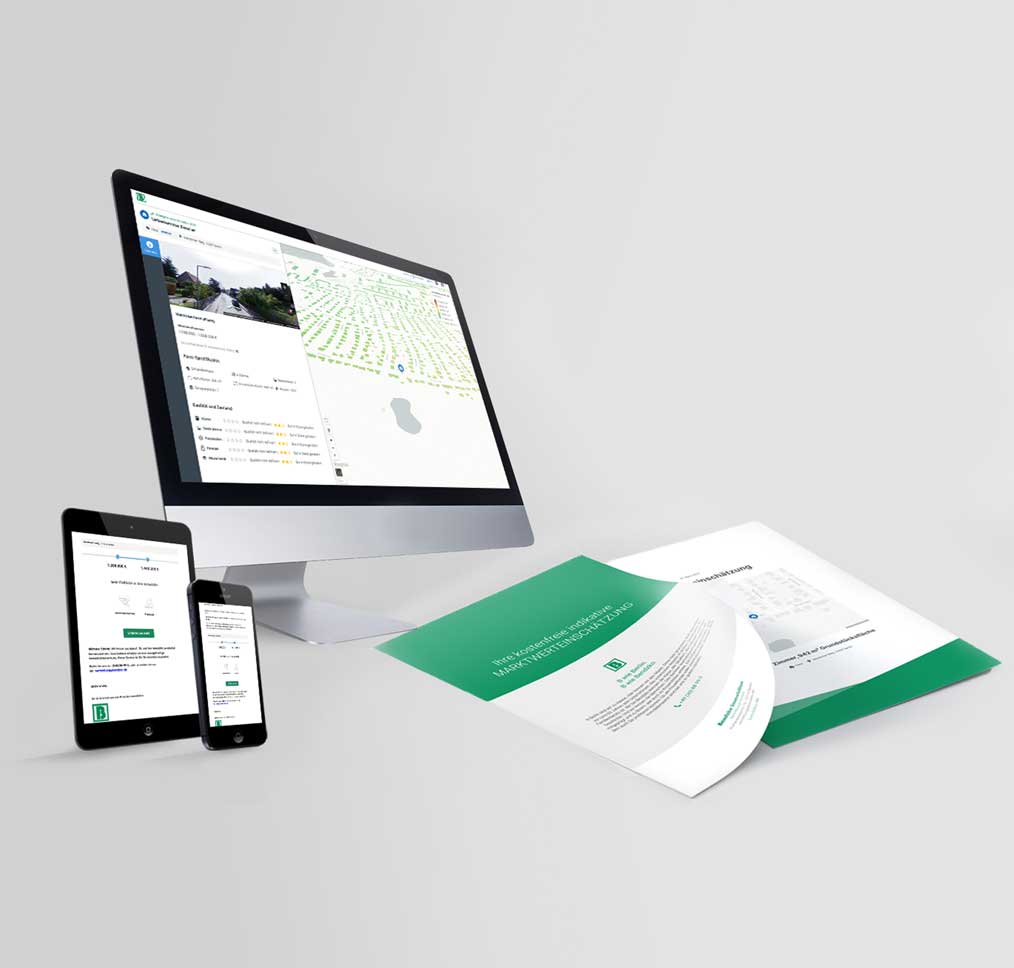 Next step: Personalised property valuation
Our online property valuation provides an initial estimate of the value (price range) based on the information you provided. However, a detailed and more precise valuation that considers the individual specificities of your property requires an on-site appointment. Which, of course, is free.
Property sales process



Regardless of whether the property is an apartment, a house, a building or a tenement – selling a property is a complex process, and we guide you through it from A to Z.

Every property is unique, and it, therefore, needs a tailored marketing strategy. This all starts with a face-to-face conversation. We get an idea of your goals, advise you and determine the value of your property. Then we draw up meaningful sales documentation and appealing exposés. Thanks to our thick client Rolodex, we can target specific buyers – including discretely, if that is required.
We free you from time-consuming viewing appointments and phone calls and expensive advertising. We check the creditworthiness of prospective buyers and prepare the sales contract. We handle the notary appointment and hand over the property to the buyer. And we continue to support you once the sale is concluded.
On-site appointment
First we want to get to know you and your property. We get an impression of your property and collect the essential information.
Market valuation + sales strategies
We provide a non-binding market valuation and discuss it with you. We then recommend the right procedure for a successful sale.
Sale order
You commission us to sell your property to potential buyers.
Start of sale
We assemble all of the documentation required for the sale and digitize it. We make photos of your property and draw up a professional sales exposé.
We place your property in the major real estate portals and send the exposé to pre-selected clients from our database.
Viewing appointments + buyer service
When requests from prospective buyers come in, we check them for their seriousness. We then show them your property at individual viewing appointments.
We answer the questions of prospective buyers, provide them with additional documentation and support them in acquiring financing.
Sales agreement/sales contract
A suitable prospect then decides to buy the property. The buyer's notary draws up a draft sales contract and provides it to the parties. After any issues and desired changes are addressed, we set up an appointment for the signing of the deed.
Notarial registration
The sales contract is registered with the notary.
Payment of the sales price/handover
Once the sales price has been paid in full, the property is transferred to the buyer.
After-sales service
And we don't become strangers once the sale is concluded. Should questions or issues arise after the sale, we will of course, continue to provide you with our support.
Contact made easy.
Please use the contact form.
We will get in touch soon.
Or call us at:
+49 (0) 30 8899 0